Get your mens wedding suits and style right
Weddings are occasions when you should look your best. Whether you are the one getting married or you are a groom's man or just attending the wedding, it is important that you get your suit right. Men's suits have evolved with time and there are more designs you could choose from. In this instance, we are going to assume you already know what design you will be wearing and we will jump right into the color of the suit. It is quite important that you get the color right.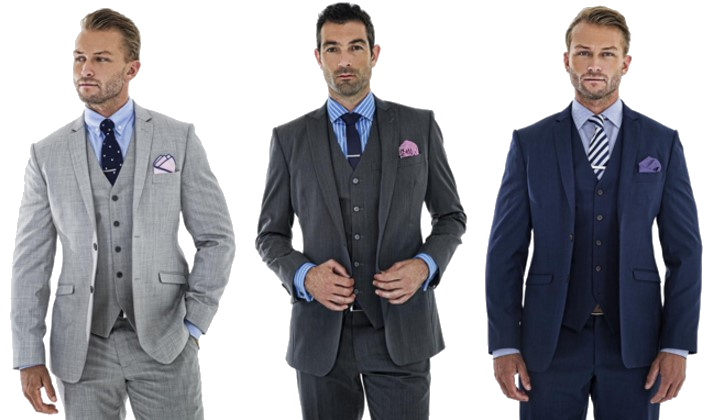 White
Many people think of white for a wedding and if you are a bride that is totally acceptable, however, we are talking men's wedding suits so leave white for the ladies, after all, you don't want to match the bride if you are the groom or anyone associated with the bridal entourage. And if you are not part of the entourage there is no reason to choose white.
Black
Black is an elegant color that seems to fit in with any other color. If you are the groom and you are wearing black, you can be sure that you will complement the bride no matter what. However this is playing it too safe and if it is a hot evening, you will feel and probably look uncomfortable in black
Deep Navy Blue
Now this is the most recommended color for men's suits at functions like weddings. Navy blue adds color to your look without being too adventurous. It is a color that also is not too hard to pick out shoes to go with. Now do not start thinking of blue shoes, you need to create a bit of contrast so brown or black shoes will look just perfect for men's wedding suits. Complement it white a white shirt and a tie of any color other than navy blue or blue.
Charcoal Grey
This is a color for a suit of all seasons. The great thing about charcoal gray is its ability to blend into different functions. While it will be great as a business suit, it also is quite a great wedding suit. It is smart and elegant and has the ability to blend in the background. The thing is many men own gray suits so do not be surprised to be dressed the same as so many other men at the wedding. But that is also a good thing if you do not want to burden your best man with buying a new suit. Chances are he has a gray suit in his wardrobe or if he buys one, he will know he does not have to wait for another wedding to put it on since it can be worn to so many other formal functions.
Brown
This is a color you go for when you want to be one of the few stylish ones. Not so many men own brown suits and at a wedding, you stand out in a brown suit. It has the ability to go with different tie colors and even if you wear brown shoes with a brown men's suit, you will still not have committed any fashion crime.
The 2016-2017 fashion collection is for the people that are ready to stand out but still that is no reason to go and embrace loud colors for your men's wedding suit. Unless you are getting married in Vegas or on a boat, please do not experiment with yellows, pinks or striped suits.